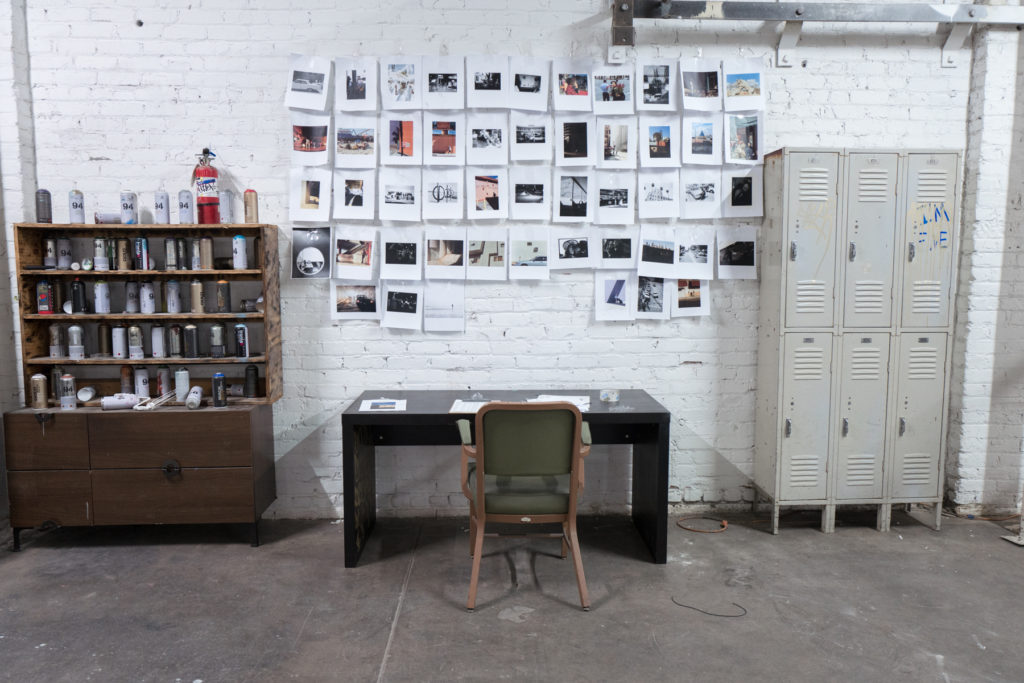 The work of artists in printed form allows for photographs to be created.
On Saturday, December 15th, These Streets Magazine launched their second issue. Focused again on the city of angels, the magazine is spread over an impressive 144 pages of photos. Embedded in the pages is poetry by Claudia Rodriguez, and a biographical article about the poet by Makenna Lepowsky, (apixxie.) You'll find an interview with David Healey, a seasoned Street photographer who shot the cover image of the magazine.



Each of the 11 photographers in the issue captures L.A with their own style, bringing to the pages a variety of subject matter.  Much of the diversity is attributed to how many who are part of the magazine, call Los Angeles their home. These photographers make it a point to explore their city, capture moments, and find ways to push the depth of the message behind their photos.




The event was full of creatives in a space that turned alive with sounds from the DJ booth. Huge thank you's to DJ's @Diilate , @6AMLosAngeles , and @Tongpo for providing the beats for the evening. Set in a spacious, converted warehouse in downtown Los Angeles, the venue resembled a gallery. Large prints were hung on the walls, displaying photos from the magazine and highlighting the artists involved.




David Healey is a veteran who was born in Massachusetts, and hitchhiked all over the U.S before settling in California. The crew that operates These Streets Magazine bumped into Healey on the streets of Venice. Conversation lead to profound interest to include Healey in the magazine. With 15 years of photo documentation surrounding Tara, a woman whom was often homeless, Healey brings her soul to live past moments in time.




By 9:30PM, the magazine had sold out.




Free sodas and beers were provided by the individual team members from These Streets Magazine.
So where is the magazine headed to next? These Streets is not solely a Los Angeles thing. I'm not about to spill which city will be the hub for the 3rd issue – so stay tuned. This magazine is definitely making waves.
Editor in Chief :: Joshua Zamudio (@Josh.Tsm)
Editor :: Kemal Cilengir (@Streetwisela)
Co-Editor :: Makenna Lepowsky (@Apixxie) + Erika Cilengir
Community Lead :: Sergio Clavel (@Rawfile_)
Curator :: Arturo Hernandez (_elyunior_)

Featured Photographers ::
Connor Silver (@ConnorSilvr)
Jayse Lee (@Eonfionn)
Jenae Lien (@JenaeLien)
Matthew Nordman (@N.rdy)
Matt Lawrence (@LightEditions)
Nick Rufo (@KillTheCity)
Valerie J. Bower (@ValerieJocelyn)
Jim McHugh (@Westernave)
+
Alperr Padiernos (@alperrpadiernos)

Writers ::
Walter Thompson-Hernandez (@Mychivas)
Makenna Lepowsky (@Apixxie)

Team ::
Alex Navarro (@Diilate)
Tiffany Mansour (@Mrs_Positiveminds)
Lauren Lakin (@lo_lakes)
Vanessa A. (@abxdness)

Contributors ::
@TheContainerYard, @Samys_Camera, @StrapsByElroobs

All images taken with a Leica Q